You've got questions, we've got answers:
Q) Does the Magic Press Pass get me in free 100.00% of the time?
A) No.  Nothing's failure-proof in life.  And anyone who tells you otherwise is doing you a disservice.  I'm an Eagle Scout from Kansas and I'm not going to lie to you, that would be a violation of the Boy Scout Law and my personal code of ethics.  I have found that I get in FREE MORE THAN HALF the time.  I have also found that even when they don't let me in for free; they will give me a discount on admission (half off, two for one, or the locals rate).  For example at the Belize Zoo (the Best Little Zoo in the world), they gave me the child rate — saving me $5.  
For bigger events you'll often need to call or email in advance.  Don't worry, thanks to our Press Pass Extras, your name and photo will be on one of our media websites, which will help you greatly in your efforts.  And with our Success Guide, you'll have the same scripts I have used successfully to get in.  
As Wayne Gretzky "The Great One" once said, "You miss 100% of the shots you don't take".  Or as my father said to me, "Every no is one step closer to the next yes".  The worst that happens is you have to pay full price.  The best…. a free pass and maybe more.  And thanks to the NO EXPIRATION, you're free to use it for as long as you're lucky to live in this life.     
Q) Does simply showing the Magic Press Pass get me in, or do I have to say something?  
A) Sometimes it's enough to show the pass.  Sometimes it's enough to show it and say you're a journalist.  Sometimes you need to explain yourself, what media organization you work for, and why you're there.  Don't you frown, you cute little pumpkin, after you buy the pass, I'll email you the Magic Press Success Guide.  In it are all the words you need to say when you're asked questions.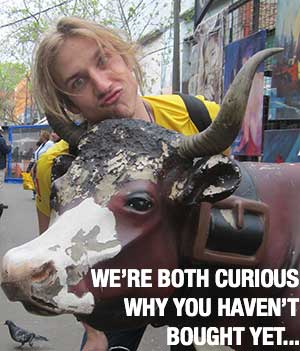 Q) I've never heard of Media Network Online, why don't you sell press passes CNN or BBC?
A) We're selling Media Network as the company as we own the URL medianetworkonline.com and the media site we're buliding there.  In addition we can offer you a photo on our website along with a working @medianetworkonline.com email account.  
Most importantly, it would be immoral, and probably illegal to sell a press pass for media outlet that we do not own (like CNN and BBC)
Q) Ok, I get it, but isn't this WRONG, or even ILLEGAL?
A) What would be illegal and immoral would be misrepresenting yourself by saying you work for a company you don't work for (like CNN or BBC).  Because we own medianetworkonline.com you can be an authorized reporter for Media Network simply by buying our pass.  Here are some direct quotes from Wikipedia under the entry "press pass" (and the heading "News Agency Cards") for your benefit (emphasis mine):
"You do not need to ask permission from anyone to be a journalist," explains the Periodical Publishers Association; "however, it is sometimes useful to be able to identify yourself as a journalist when needed."  To this end, journalistic agencies issue press cards to their reporters, editorialists, writers, and photographers. These do not have the legal merits of government-issued cards, and they will not replace event-specific passes; the card only serves as proof of its bearer's status as a legitimate newsperson according to the issuing organization. As such, card-carriers may be better able to obtain interviews, acquire information from law-enforcement, or gain access to exclusive venues."
Q) Does the Magic Press Pass work only in Latin America? Or does it work elsewhere too?
A) I have primarily used it in Latin America, but I have also used it successfully to get into a roof-top bars in Brooklyn, live music events in Kansas City, and to attend a Chipotle launch party in Philadelphia.  So I've already proved it works in the USA.  It should work in every country of the world.  It works especially well when you're traveling as you typically only want to get in a venue once or twice.  If you're hoping to come back again and again to the same venue, your best bet is to to create some content on one of our media sites.  Then show it to the venue owner/manager to prove you're providing value and would like favored status.  This is all covered in our Sucess Guide.
Q) What if they say I'm not really a journalist?  Or if they Google the name of the company on the pass?
A) They will arrive at our website, which we own.  We are building the site to be a real media outlet; so you don't have to worry about them claiming that Media Network doesn't really exist.  Remember with purchase, you'll receiving a FREE 3 Month Trial to our Press Pass Extras Service.  If you don't recall this service lets you have your photo and biography appear on our website.  And, you'll get a working @medianetworkonline.com email address.
Q) Am I required to write a story or submit something to you folks?  
A) Well, both we and the business/event organizer WOULD LOVE you to cover every event you attend with your Press Pass, BUT you're NOT REQUIRED to write about every event.  Do feel free to send any articles, and we'll be happy to publish your stories.  Writing about the places your Magic Press Pass gets you into for free can have a lot of benefits to you including:
Raising your public profile
Helping you get back into the same event/club/bar the next time
Helping the business get more publicity and business
Helping the business obtain a better Google ranking
Q) I'm already on my trip… can you ship internationally?
A) Heck-yes!  Just give us the name of a hostel/hotel 2-3 weeks ahead of your current trip and we'll get it to you.  We also offer express shipping.
Q) Why should I buy a pass from you instead of [making it myself, buying somewhere else, etc]?
A) I have done a lot of research on the quality of the pass.  We offer the highest printing quality along with features you probably can't duplicate at your local Kinko's, or with Uncle Berney's Laser Printer:
High Quality 2-Sided Color Printing
Success Guide (telling you everything you need to use your pass effectively)
Press Pass Extras… In case you've forgotten, it's a fully functioning media website that people can examine at any time.  Remember we also put your name and photo on the website and give you a working email address at

@medianetworkonline.com

).  If you simply tried to print your Pass, and someone said, "Who are you with?", how would you respond?
Q) What's it made out of?  
A) The Magic Press Pass is printed on high quality PVC plastic blank cards — the same style and quality you'd expect from a credit card or a Hilton hotel card key.  It looks great and has no expiration date … use it for life!
Q) How in the hell is this thing worth $49?  
A) Realistically speaking, it's worth a hell of a lot more.  If you want to buy another bonafide pass (without the option of your bio on the website, or a working @medianetworkonline.com address), you're looking at:
National Press Photographers Association Professional Membership: $110.00 (ANNUALLY)
National Press Photographers Association Student Membership: $65 (ANNUALLY) … but don't forge the big fat "STUDENT" on your card)
International Freelance Photographers Association: $82.00 (ANNUALLY) 
Cable Muse Press Pass: $84.50 (ANNUALLY)
Q)  Do you offer refunds?
A) Unfortunately not.  All sales of Magic Press Pass are final.  I will say though, that provided you use it, it will be one of the best investments you've ever made.
Did I answer your questions?  I hope so.